To each her own blouse
Whether you slip it on to complete a professional outfit or over jeans for a chic and casual look at the weekend, the blouse is always relevant, and is part of the wardrobe of a majority of women. Knowing how to identify the models likely to flatter your figure and its specificities is therefore essential to find a blouse that will benefit you.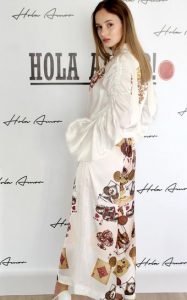 When the woman's blouse shows all its assets 
In the female wardrobe, the blouse for women holds a special place. It is a timeless and elegant accessory to match with a skirt or pants. Due to the many models offered by fashion designers, it is a garment that is suitable for many situations and all body types.Its strengths are many and its importance it represents in a well-organized cabinet of the first rank. What are the most common types of blouses? Do you need special occasions to take out your blouse? Let's discover the 2020 trends together.
The women's blouse in all its forms
While we speak more commonly of a shirt or blouse with regard to men's clothing fashion, the women's blouse includes many models. From the shirt blouses for women or the tunic, rather dedicated to summer periods, to the long-sleeved blouse and collar with flaps to wear with a short, dressy jacket, it is available with a variety of shades, patterns and accessories.
We can nevertheless distinguish two main categories:
Women's casual blouse 
This one which is less adjusted. It can be worn with sleeves or without sleeves. The collar can be round or more classic up to the Peter Pan collar very fashionable in the 1940s. As for the fabric, it is light and fluid, in cotton poplin or viscose. The prints for this model, which looks like a tunic or a rather long blouse, are colored, either plain or floral. It can be worn over jeans or with a sheath skirt. You can leave it baggy if you tuck it in or outside the pants to accentuate its relaxed look. It gives a very young look to the one who wears it. Whoever chooses this model decides to work in a company that has the same values ​​of well-being as her.
 Women's fitted shirt with long sleeves
It is suitable for the city dweller who works in a company that takes care of its appearance. It is worn under a jacket with the collar visible.
This type of blouse is generally plain, often preferring light colors. It can also be a striped shirt that looks great on the wearer. The cuffs are attached.
The material of this blouse is viscose, crepe or even wild silk which is very pleasant to wear. Its cut is fitted with a classic or original buttonhole. A few English embroidery patterns, guipures or even flap pockets and why not a scarf prints are to be chosen to distinguish the chic woman.
Collars can be fancy, lace, round or even straight.
The one who wears it shows ease and flexibility in all circumstances. 2020 trends are inventive with polka dot, floral and check patterns. The ruffled collar is making a comeback as well as a very wide variety of laces and the scarf print is causing a sensation.
Your blouse adapts to all occasions and has the power to transform depending on the accessories you add to it. With sneakers and a mandarin collar, you get back to the 70s but you can also play bohemian. Be inventive and your women's shirt knows how to follow you.
For more details, please visit: holaamor.org