It's time to catch the latest and fresh launched summer wear collection 2019 by krosskulture for the ladies out there to have some summer fashion fun! Clothing brand Pakistan Krosskulture has just newly launched with their latest summer collection 2019 for the women.
This whole summer wear collection 2019 has been designed in the simple and complete traditional and elegant variations. The dresses are designed in the designing variations of the print work with the little pattern designs over it that add up the whole collection mesmerizing looking for the women.  Women of all age groups would love wearing this collection line dresses.
Color combinations added in the collection wear dresses 2019 are much light and soft in blends. Women would love to add this collection in their wardrobe for family gatherings and dinners. Reasonable prices have been set for the collection line.  All in all we would say that this summer collection 2019 by krosskulture is much unique and fantastic looking in designs.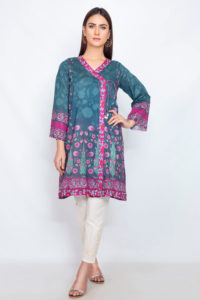 The prints and patterns, inspired by the comforts of the home and the upholstery in mid-century, are exquisite, old and charming. Designers absorb the essence of the past to provide inspiration for the future, using old designs and crafts to create beautiful and enduring pieces, and giving them a strong vitality and cross-season appeal. The time-tested fabrics returned to the fashion stage, and the brand refurbished their old designs. The new design is more subversive, and the combination of strange colors and the reduction of neutral colors give the plaid and rhombic patterns a new look.
The colors of the lawn kurtis 2019 Collection by the krosskulture are fantastic and breathtaking. These colors are creamy white, gold, divine white rust with a brown flora, silver with green trim, sand with purple prints, golden and pink paste, white with black geometric entities. Nothing can go wrong with experimenting with embroidery, using it to collect soft colors and subtle art. By adding the wow factor to our creations using artistic accessories such as acorns, mesh lace, bullets, buttons, our team of designers ensures that this be done decently.
Pakistani lawn kurties online are also considered to be the best to wear in summers, due to the lightest and cheapest version of any lawn outfit, it is both, printed or embroidered clothing forms and designer suits as well as typically shorter than a normal lawn outfit shirt in length.
The cotton lawn is the most commonly used in summer fabrics. It is considered the summer casual clothing for women. The summer cotton collection contains a variety of reasons, such as digitally printed dress, embroidered dress, etc. Find the best collection of summer 2019 in the categories of krosskulture collections.
From glamorous party kurtas suitable for celebrations to casual kurtas suitable for a simple day out or a day at college, krosskulture offers all of this. Paired with good and large discounts, their clothing is suitable for women of all ages. Even for young students running on a budget.
Although the battle between purchases online and offline is still relevant, online shopping is becoming increasingly popular among people of our time.
So what are you waiting for? Check out the Krosskulture's collection right away here.