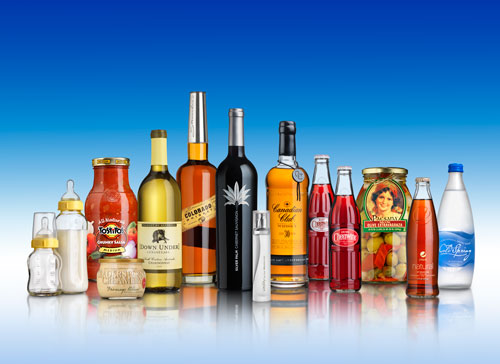 Advance technology in food processing and food packaging play a play major role in maintaining safe food supply to retailers and wholesalers. Glass materials used in food package enables foods to transport from their point of origin, in its original form, up to the time of consumption.
Glass material has a long history in food packaging. The process involves heating of glass and other materials to a very high temperature where these are melted to form a thick liquid mass which is poured into molds. Companies are also using broken glass (cullet) materials and it contains 60% of all raw materials. To eliminating scratching or surface abrasion and line jams, internally coated glass containers are available. This coating enhances the life of packaging material and reduces breakage.  Improvement in break resistance allows manufacturers to use thinner glass. This reduce weight and easy to "dispose of" and also for transportation.
Learn about more products: Perfume Packaging
Glass packaging is fragrance-free and chemically inert with virtually all food products.
Since vapors and gases cannot enter glass containers, it maintains freshness of the product for longer period of time without impairing taste or flavor.
It is safe for heat sterilization of low acid and high acid foods, due to its quality to withstand high processing temperature.
Glass packaging is rigid and provides good insulation.
It can be available in different shapes.
Due to the transparency of the glass, the consumer can see the product inside the container, yet light sensitive contents can be protected due to various glass colors.
It is environmental friendly as it is reusable and recyclable.