Kurtis are evergreen trend of the South Asian culture. Ladies we want Kurtis no matter what the season is it is mandatory. What so good in this fashion is, it can be feasible for all the occasion types you can go for your casual dressing, hangouts, formal and professional dress up with Pakistani kurta shirt and it gives a charming, simple, beautiful and sophisticated look.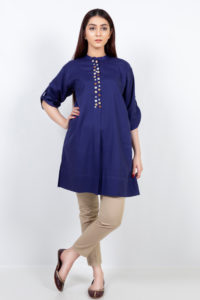 Modern fashion brings out more fashionable and styled kurti trends. The typical structure or layout has also been changed by designers. Now we have more enchanting and alluring designs with a huge variety.
1      Short length kurta:
Short length Kurtis are very common fashion what we find more attractive in this new trend is; now short length is coming up with umbrella style. We can say length of umbrella frock has been reduced but here are some little changes like not too fitted chest region, we see loose chest region that is continued to umbrella with slight diaphragm and kimono or trumpet style sleeves. This style suits more perfect with bright colors and embroidery.
2      Medium Length Feast:
Medium length Kurtis are available with a huge variety of style. Frock style is so in again what it looks like a short length casual frock and with apparent detailing to give it real look. Beg-y shirts or coat styles have also influenced this style, what makes it unique is typical style with different length and you got your new, trendy and pretty dress here. Usually simple detailing and one base color are its component or some time plain single colored shirt with little dash of other one, a cornered.
3      Off Shoulders:
Off shoulder tops are what we have heard about thousand times, this time here we have some new thing. Comparatively long length kurti with or without air-line front and no side chalks that has off shoulder at top. Usually these are less detailed and designers have just focus on the flair rather than print on embroidery. Colors are important in these styles like what we usually see is top (chest) and lower part of two different colors with a definite diaphragm.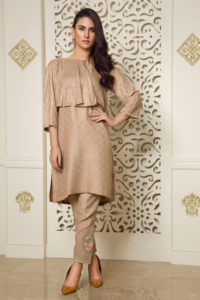 This merge of perfect plan and high class texture has brought about the leap forward of this exceptional retail brand. Our responsibility to quality texture throughout the years has made it an easily recognized name. Fashion is a language which tells a story about the person who wears it. Clothes create a wordless means of communication that we all understand. Fashion is a state of mind. An essence, an extension of one's self. Fashion talks, it can be an understated whisper, a high-energy scream or an all knowing wink and a smile. Most of all fashion is about being comfortable with you, translating self-esteem into a personal style.
At krosskulture they celebrate fashion as a positive influence. Their aim is to show that change is possible and encourage those who are on a journey to create a more ethical and sustainable future for fashion.
Krosskulture trust you appreciate wearing them as much they adore making them for you.
Next to krossulture's store you can see how summer trends will bring a lot to match your wardrobe. Check the catalog of their low cost women's clothing store here. 2019 will start on a very good foot thanks to some of their clothes.