Pakistani fashion is in an exciting phase where the trend is to reconnect with ancient roots while simultaneously bringing traditional garments into the modern world. One of the best examples of the melding of Pakistani and western styles and traditional and contemporary fashions is the Women kurta Online.
A trendy type of kurti's, this item is much loved by women across country, especially young girls and working women. The shape and style of the ladies' kurta has a certain versatility which has made it a hit item even with international customers.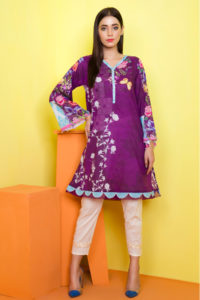 The ladies' kurta design is derived from ancient Pakistani and Mughal garments and in fact the classic kurta is quite long, loose and flowing. However the ultra-trendy variety that has taken the ethnic fashion world by storm are the short kurtas for women. These end much above the knee, typically about mid-length, though sometimes they can go even shorter than that.
Different from long kurtas
They also have a tighter fit than the conventional kurta, with many interesting variations in neck line and sleeves. From classic round neck, v-neck and square neck to the stylish deep neck, key whole neck, sweet heart neck and collar neck styles, one can find it all. Even in terms of sleeves there are daring designs like sleeve less and spaghetti straps as well as the classic full sleeve, three fourth sleeve and half-sleeve.
Apart from these variations in cut and patterns, one can find a tremendous variety in fabrics, designs, colors and motifs as well. While the traditional choice for a girl's kurta is cotton, many other fabrics like silk, rayon, georgette, chiffon, crepe, crushed crepe, cotton knit, tissue and even net are being used of late to create more exclusive ladies kurta designs.
Cotton kurtas
However, cotton remains the most popular fabric, not just because of how comfortable but it is, but also because of its versatility and adaptability. Cotton can easily be dyed into different colors and takes on prints remarkably well. This is a crucial factor for kurtas as they are primarily meant to be fun, casual ethnic wear for young women. Moreover in Pakistani fashion, bright colors are the most preferred.
This is why you'll find a lot of bold shades like scarlet, saffron, emerald, turquoise, mustard, indigo, pink and orange. Of course, softer shades like cream, white, baby blue and pastel green can also be found, but these are less common. In recent years multihued or neon colored kurtis have become very fashionable.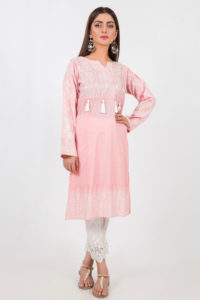 The importance of embroidery in Pakistani ethnic fashion cannot be denied and thankfully, this is one of the key elements in fusion fashion as well. A Pakistani kurta for girls can, of course, be plain, but even then it will have some form of decoration either in the border or neckline area, or subtly scattered across the fabric.
You know, if you want to make a very special gift during this summer, the kurta shirt will always cause a sensation. In their low cost women's clothing store you will find several models that will fulfill all your expectations. Do not wait more go and check online store. Click here for more details.