Let's go for a new season that rhymes with new trendy looks to copy! So, after showing you all the trends for summer 2020 shoes zoom in on an essential piece of our wardrobe that we often neglect, but which is essential for the spring-summer mid-season.
With sleeves, pockets or lace, make sure you have at least one in your wardrobe. So, without further ado, here is how to wear the white shirt better than anyone! Tips, tricks and several outfit ideas to steal yourself to successfully climb the white collar.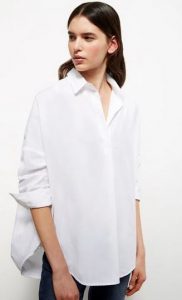 How to wear the white shirt according to the spring-summer 2021 fashion trends?
After the winter period the time of year comes when it is still neither too cold nor too hot. A delicate season in terms of outfits; as you don't really know what to wear to stay stylish and comfortable. Your best bet? The white shirt, of course! Like the little black dress, the white shirt is a sartorial essential that we often forget, but never disappoint.
A true symbol of elegance, it is indeed a male undergarment which fortunately very quickly found its place in women's wardrobes, never to go out. It crosses the seasons while remaining a timeless piece that adapts to every style and body type. Demonstration in the current article!
The white shirt, a basic dress not to be underestimated
Very often we tend to think that a basic piece is easy to adopt. Just take any chic model and you're good to go. However, the white shirt can be the best style ally or the worst choice for a look. So, which design of white shirt to choose? What style to adopt with it?
And above all, what are the right combinations to build a silhouette right in the current trends? Once the fashion codes have been deciphered, the white shirt will become your privileged choice during sunny days and not only.
Short or long, oversized or slim, paired with wide pants or a pencil skirt … needless to say that the white shirt is a real chameleon that reinvents itself every season without forgetting where it comes from! Of all the colored models, prints, stripes or polka dots, that we see everywhere, this is obviously the most favorite shirt.
And if you still think it's only for rigid women over 45 working in accounting departments, think again immediately! The white shirt, you can twist it as you want.
How to wear the white shirt like a real fashionista?
Before you dive into our website, here are some tips to learn how to wear the white shirt better than anyone, no matter the weather and the circumstances. For an easy chic look, we recommend that you wear your shirts for women UAE with rolled up sleeves, without buttoning it up to the neck and without forgetting to dress it with the right accessories.
Moreover, if, like us, you are always looking for the next stylistic inspiration, you have probably already noticed that a good number of trendy fashionistas prefer to tuck their shirt into the pants or even into the jeans while leaving their rear panels outside.
For more details, please visit: holaamor.org