Convenience features, such as portability and one handed handling are added in food packaging which makes the packages easy to handle and serve.
In the food items, convenience features also focus on needs of back-of-the-house personnel, server and bartenders. By switching from cans to plastic containers for seafood products, the companies have provided shelf-stable packaging; for this plastic tubs are used. These tubs come in different sizes according to the convenience of the consumers. These tubs are heat-sealed with film lidding and contain a rigid plastic cap. These tubs have proven to be easier and safer to open and minimizing the efforts to serve. These packages are mess-free and re-closable. These tubs can be placed in microwave oven for re-heating.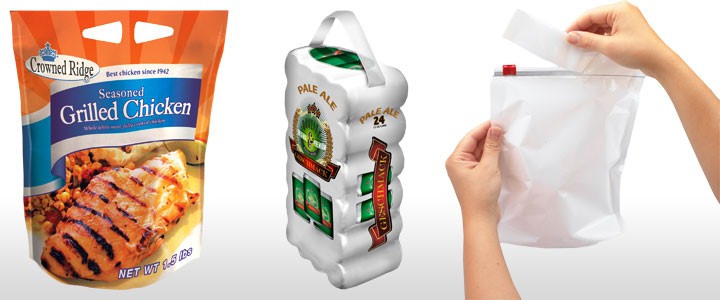 Glass packages for juices, milk and other liquid materials are used which have been sealed with lidding film. It is very easy to serve as you have nothing to do except to peel off the lidding. Packages with straws inserted therein are also available in market.
Juice glasses are available with handles for holding and you can serve these as it is,  without going through any extra efforts. "Cooking oil" bottles are available with easy-to-open lids. Juice cans with handle to hold are available. Tea or coffee bottles with a funnel at the mouth to pour the contents are a great way to minimize serving efforts.
Food trays having many compartments are available. Companies have added convenience to serve by shielding the most vulnerable food components so that they receive less energy. A microwave-shielding is molded into the vertical wall of one compartment. The food in that compartment receives less heat from the microwave as compared to the food in without shielded compartment. The shielding technology eliminates hot and cold sports in microwaved food and you will get the food as you get it while  sitting in a restaurant. These trays have not special instructions about the cooking –You can cook the meal for 4 minutes or so on, without instructions, like, "heat for one minute and then stir".