ITIL is the Information Technology Infrastructure Library. This is primarily a collection of all the best principles and practices that will improve your company's service delivery. The system and process will reduce the costs and maintain the efficiency of your company therefore, more and more IT companies are now starting to use ITIL for this very reason.
If you work in IT then you have probably heard of ITIL before. As it is becoming one of the core necessities in your company, it's very important to have the correct ITIL Certification available for employees.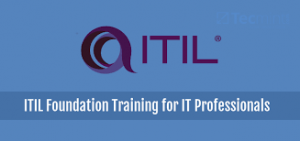 This ITIL Foundation training will make you as an employee far more valuable to the company, as the entire business saves money as a result of your growing knowledge.
The training is made up of four different levels and stages; this is based on the certification process: Foundation, Intermediate, Exert and Master. Each level requires the completion of various training activities. With each of these stages you will earn a certain number of credits that can allow you to move up to the next level.
ITIL Certification courses will allow you to enroll online or at various evening colleges. Of course there are the positives and negatives of choosing either option. The online courses will certainly offer you more convenience and allow you to work at your own pace however, by choosing to learn in a classroom or with colleagues you are maximizing interaction with teachers. Each way, this is completely down to personal preference.
It's important to try and get these courses paid for by your company or business as they can actually be quite expensive. This will not require too much persuasion as most corporations are encouraging the ITIL Course as company policy.
All technology based training is essential nowadays. The world is changing and adapting all of the time, and computerization and the internet are at the forefront of the change. It's now essential to have a strong understanding of how the IT industry works and keep up with it! We've gotten past the point where just 'must be computer literate' is acceptable, employers and business want hands on technological brains with the skills and qualifications to prove it.
Digital marketing agency in Lahore providing Best SEO, SMM and Web Development Course Training ; Services in Pakistan. We are providing Best Digital Marketing Solutions in Lahore